In today's digital age, companies are constantly searching for innovative approaches to optimize their business processes and gain a competitive edge. One such approach is the concept of "Composable Business," which refers to how companies can utilize technology and data in a modular and flexible way to transform their business models.
In the graphic below, the spectrum of Composable Business is depicted based on technology degree (pro-code vs. no/low code) and automation subject (data vs. apps/workflows). This has given rise to completely new software segments as enablers for Composable Business, such as automation tools (like Workato or Zapier), low-code app builders (like Microsoft Power Apps), or no-code databases (like Airtable).
The Rise of Composable Business: The field of automation has rapidly evolved in recent years, offering companies a variety of tools and solutions to effectively support their functional processes (marketing, HR, finance, etc.). However, these tools were traditionally considered closed systems with limited interaction. The concept of Composable Business has fundamentally changed this mindset.
The principle of Composable Business is already present everywhere in many companies, even if we might not be aware of it. The idea behind it is that companies are no longer bound to rigid marketing suites but can instead combine a variety of specialized tools to create a tailored solution. These modular systems can be flexibly adjusted, enabling companies to quickly adapt to changes and drive innovation.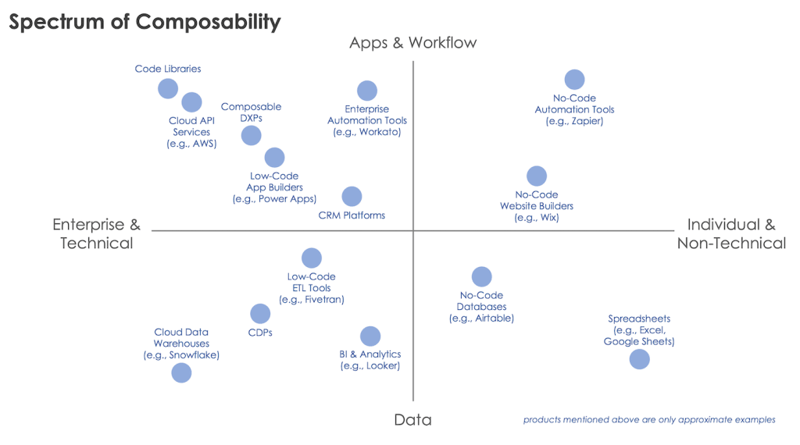 The advantages of Composable Business:
Flexibility: businesses can choose from a wide range of tools and solutions to meet their unique needs. Instead of relying on a single comprehensive platform, companies can select the best tools available and integrate them seamlessly (we already know this from the best-of-bread approach).
Agility: this flexibility promotes agility and allows companies to respond quickly to new trends and customer needs.
Scaling: companies can scale their technology stacks as needed and grow with processes and requirements.
Innovativeness: by combining different specialized tools, companies can develop new solutions and features that are one step ahead of their competitors. The Composable Business approach creates an environment where companies can be creative and find new ways to delight their customers and grow their business.
Let's automate!
Autor: Prof. Dr. Andreas Fuchs